Synthetic Grass
There are a large number of synthetic grass systems on the market, they all look relatively similar but can be made from different materials or manufactured using different techniques and designed to be used in different ways.
Therefore it is essential when planning your project to specify what synthetic grass is required and for what sport.
Water based Pitches
A synthetic pitch that is non sand filled and optimises ball to surface contact and overall playing characteristics. The synthetic carpet is laid on a rubber shockpad and would be ideal for Hockey. The field has to be irrigated prior to use.
The optimum pitch for use by national training team centres, international events and competitions, Sports clubs and Universities.
Sand Filled Pitches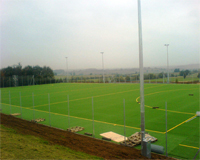 A sand filled system is a versatile and durable system that can be used for Hockey, Soccer, Tennis etc.
The sand is usually taken within 3mm of the fibre tip.
The fibres and sand combine to form the playing characteristics of the pitch, and it is essential that the level of sand is maintained throughout the facility life.
An ideal choice for schools and clubs that have a multi sports approach to their playing surface.
Sand dressed Pitches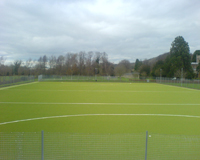 More designs of sand dressed pitches are now available to the market, this offers excellent playing characteristics and is particularly popular for clubs wishing to top line performance without the cost of a nylon water based pitch. They have a shorter, denser pile than the standard filled grass systems and have a reduced quantity of sand infill usually ¾ of the pile height.
The sand dressed system is commonly specified as an alternative to the non filled irrigated fields for Hockey.
3rd Generation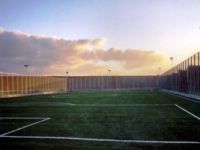 3G pitches or 3rd generation pitches are filled with sand, rubber or a combination of both.
The using of rubber granules in the infill to the system is designed to provide some of the shock absorption and are sometimes mixed with sand or incorporated with the sand in layers.
This system has been approved at the highest level for Football and Rugby by the appropriate governing bodies. Surfaces that fall into this catergory differ from the standard sand filled systems in the pile height, commonly up tp 65mm high with a 2/3 infill.
These pitches can be installed on a shock pad, macadam base or even directly over a compacted stone base. They offer a more natural looking appearance and more accurate playing characteristics than those synthetic systems that just have a sand infill, players can use a full studded boot on this surface.
These synthetic pitches can be installed over any size from a full sized pitch to a 5-a-side pitch. Standards of installation range up to FIFA 1 star and FIFA 2 star systems.
Playdeck UK Ltd offer a maintenance program for artificial grass to reduce moss and debris building up within the fibres. We can also offer sports surface maintenance for 3G surfaces as well as sand filled.